ATTENTION: We currently have only a few items in stock.

| | |
| --- | --- |
| | |
| Size | Foots |
| 5 | 8.86 in |
| 6 | 9.06 in |
| 7 | 9.25 in |
| 8 | 9.45 in |
| 9 | 9.65 in |
| 9.5 | 9.84 in |
| 10.5 | 10.04 in |
| 11 | 10.24 in |
| 11.5 | 10.43 in |
THE MOST COMFORTABLE AND COSY PAIR EVER!
The PELY3 "Cosy Autumn" Boots are designed in collaboration with world-class orthopedists and shoe designers to provide maximum style and comfort for the wearer. Featuring a plateau sole, this ultra-soft pair of boots offer you the perfect amount of cushion and support to make every step painless and enjoyable.
With our MaryPosa every movement feels light as a feather, you can move for hours without stress and pain.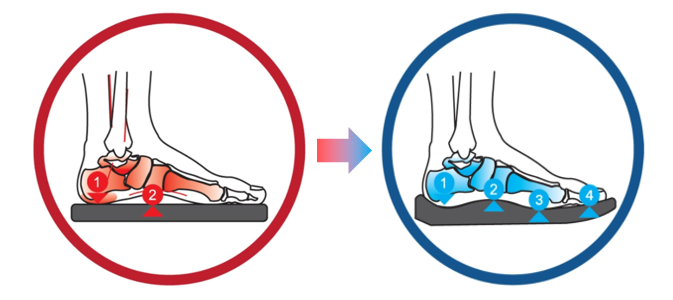 STYLISH AND EFFECTIVE
Your feet may be causing you pain due to many reasons – arthritis, metatarsals, heel spurs, fatigue, or overuse. The unique contoured design of the PELY3 "Cosy Autumn" ensures that your feet muscles and bones don't suffer from excess strain, thus providing immediate and long-lasting relief.
It's gorgeous design also features a colorful bow at the front and multi-textured patterns at the side— so you don't have to give up on style for comfort anymore!
DESIGNED BY COLLABORATING WITH ORTHOPEDICS AND SHOE MAKERS
PELY3 "Cosy Autumn" Boots uses the best orthotic technology in the world to offer incredible support to your whole feet and make you feel comfortable even after standing, walking, or working all day long. 
They are super comfortable and yet so unique looking. Wear her with jeans or casual wear, and either way, you will always stand on a stage.
The unique patented shape helps relieve strain from your heels, ankles and fixes your walking stride and posture to further help relieve knee and back pains too.
● Thick extra padded cushion and outsole
● Feather-light and comfortable for all-day wearing
● Flexible sole – moves and adapts to your walking style
● Improves walking posture and reduces pain
● Stylish design
DESIGNED FOR FALL AND WINTER
PELY3 "Cosy Autumn" Boots are genuine leather products, which may have some contact with water, but should not be soaked in water for a long time.
Corrects posture and helps the foot muscles by bringing the bent toes back into their natural position.

HOW TO ORDER?
1. Click on the "ADD TO CART" button 
2. Proceed to "FINISH ORDER"
3. Enter your ADDRESS and select your delivery method
4. Pay with PAYPAL or CREDIT CARD (Stripe), which are 100% secured by SSL encryption
OUR CUSTOMER'S SATISFACTION IS OUR #1 PRIORITY!
We strive to offer our customers the most innovative and high-quality products on the market
We will ALWAYS do what it takes to provide exceptional customer service
We are only happy when you are 100% satisfied! And that is why we back each order with a 30-day Money Back Guarantee.
COMPOSITION:
Lower sole: rubber from Paraguay.
Insoles: Breathable perforated fabric. 
Heel Height: 2cm/0.78 inches

Closure Type: Double Adjustable zippers.  (BOTH SIDES CAN BE ADJUSTED FREELY)